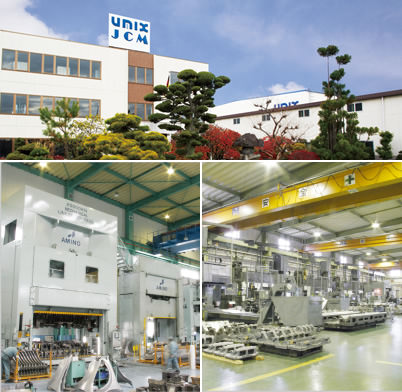 UMIX has always valued our technical development since the establishment of the company as a private management manufacturer. We have been continuously searching for the cutting-edge technology with flexible ideas and the latest facilities in the time.

Based on this management principle, by supporting our technology, we have met our customers' demands promptly and made the special structure as our world patented ROTARYCAM™, JCMCAM and our own unique products, press die standard parts.

We established business relationships directly with worldwide foreign companies from the early stage; as a result our products have been implemented and supported by both our domestic and international customers.

In the USA, UMIX founded a die construction plant and promoted the local production. We strive to meet a diversifying market's needs by improving the work productivity and shortening the lead time.

We retain our expertise by the extensive employee training and continuous self-improvement. It is also enhanced with the latest CAD/CAM/simulation systems, precision large machine/press facilities based on the ISO9001 quality policy and ISO14001 environmental policy.

1945
The first representative director founded UEMURA METAL DIE WORKS in Asahi-ku, Osaka as a private management die construction plant (manufactured dies and press dies of home device makers in Kansai)
1951
Obtained the patent of "Primary Combination Key" which was developed in-house
1953
Reorganized into Uemura Metal Die Works Limited
1956
Developed "Quick Shutdown Device of Crank Press" and applied for a patent (1966 obtained the patent)
1961
Started sales activities in the domestic automobile industry
1967
Reorganized into Uemura Metal Industries Co., Ltd. (Reconstructed the factory and installed a 200 Ton Press) and started receiving orders for automotive dies
1977
Due to sales growth & business expansion, the head office and plant were moved to Neyagawa-shi, Osaka
1981
Developed ROTARYCAM™ as an in-house exclusive product
1982
Constructed the precision machinery plant and installed several small precision NC finishing machines (by Mitsui Seiki and Makino), 500-Ton and 100-Ton presses (by Amino) and a large NC finishing machine (by Okuma)
1984
Constructed the machine plant next to the main factory
1987
Started exporting to Southeast Asia
Started sales activities for the USA and European markets
1988
Started exporting to Europe
1989
Started exporting to the USA
Obtained the patent for the ROTARYCAM™ in major industrialized countries as an exclusive in-house product
1990
Changed the company name to UMIX CO., LTD.
1992
Founded JCM CO., LTD. as a subsidiary of UMIX CO., LTD.
which manufactured standard cams and dies components
Installed a 1500-Ton press
Promoted dies and exhibited own products at INTERMOLD (in Osaka)
1993
Began business relationships with Chrysler, General Motors (GM), Opel
Promoted dies and exhibited own products at INTERMOLD (in Tokyo)
1994
Began business relationships with Audi AG, Daimler AG and Volvo Car Corporation
1995
Gave the lecture on our own products, ROTARYCAM™ and JCMCAM , at the request of
VDI(the Association of German Engineers , conference at Dusseldorf)
1997
Began business relationships with Ford Motor Company (Germany)
Attended VDI(the Association of German Engineers , conference at Dusseldorf) sectional meeting.
1998
Obtained the patent of "multiple ROTARYCAM™" in major industrialized countries as an exclusive in-house product
1999
Founded UMIX LLC in the USA
Began business relationships with BMW AG and Ford Motor Company (USA)
2000
Established the present UMIX head office in Hirakata-shi, Osaka
Established the present JCM head office plant in Hirakata-shi, Osaka
Both UMIX and JCM earned ISO 9001 certification
2002
Both UMIX and JCM earned ISO 14001 certification
Gave the 2nd lecture on our own products, ROTARYCAM™ and JCMCAM, at the request of VDI (the Association of German Engineers, conference at Dusseldorf)
2003
Began business relationship with VOLKSWAGEN AG
2004
Opened the new die construction and tryout plant of UMIX in Hirakata-shi, Osaka
Installed a 2500-Ton press and a large high speed 5 sided finishing machines
2005
Founded UMIX GmbH in Germany
Added a large high-speed 5-sided finishing machines
2006
Founded die (ROTARYCAM™) construction plant in Michigan,
USA and started local production
Re-named as UMIX TOOL & DIE CORP.
2007
Installed an optical 3D scanner ATOS III
2011
Upgraded to ISO9001:2008 certification
2013
Expanded the line-up of our own products, UMIX unit cams and standard die components
Renewed the homepage and the catalog
2015
Elected as one of the 300 Japanese "GANBARU" (vibrant) small and medium enterprises of 2015 by The Small and Medium Enterprise Agency of Japan
2017
Upgraded to ISO9001:2015 / ISO14001:2015 certification